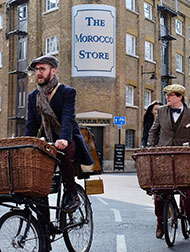 Out & About
From a home to the exiled Huguenot silk weavers in the 17th century to a hot spot of the nascent Young British Artist scene in early 1990s, Redchurch Street has always been associated with industry and creativity.
Even now as the surrounding area has become engulfed by large developments and regeneration efforts, the street has retained much of its individualistic character. Fashion, food, art & fantastic coffee are all represented here but our favourite? Labour & Wait, "a carefully curated collection of new and vintage items, some of them familiar, others waiting to be discovered. These everyday classics will not date but will mellow with age and are destined to become favourites."
A microcosm of London's shifting ethnic patterns, the area around Brick Lane in East London was once associated with poor slums and the scene of the crime for the Jack the Ripper murders. Whilst the notorious pub Ten Bells still stands, the area itself is now extremely popular with London's edgy and artistic crowd, featuring galleries, restaurants, markets and festivals throughout the year.
The Old Truman Brewery at 91 Brick Lane houses a vibrant market where up-and-coming designers set up shop every Sunday selling a unique variety of clothes, handbags and jewellery. There are also vintage clothing stores and chic boutiques dotted around the area.
Brick Lane has always been famed for its many authentic curry restaurants. It now also has a reputation for its warehouse art exhibitions and trendy clubs and bars