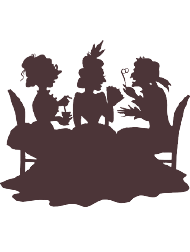 Kitty Fisher
Best remembered as the subject of a nursery rhyme, Kitty was a well-known 18th century London courtesan who started as a humble milliner in this area. Ravishing looks and a sharp wit took her a long way.
Kitty's boudoir at Batty Langley's, appropriately, has a lavish vintage four-poster and, in the bathroom, a genuine Victorian canopy bathing machine. There's a balcony, and a separate sitting room with sofa bed. The flat screen TV with Apple and media hub technology is discreetly housed.
Lucy Locket lost her pocket,
Kitty Fisher found it;
Not a penny was there in it,
Only ribbon round it.
For more stories like this please sign up to our newsletter though our contact form.