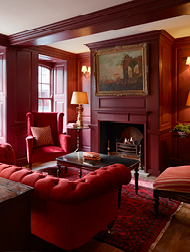 An unusual name for a most unusual small hotel.
Batty Langley was an 18th century architect whose odd name we have chosen for our latest hotel venture. Batty Langley's is ideally placed as the gateway to this corner of Old London. In among the cobbled streets and Georgian buildings that surround the hotel are some of the Capital's coolest pubs, bars and shops, restaurants and street markets.
The hotel itself looks and feels just like a rather grand, 300 year old town house, complete with richly furnished drawing room, library, parlour and courtyard garden. Our 29 characterful bedrooms are all furnished with genuine antiques and are named after real people who lived in the house or in the area (we don't believe in numbering our guests). Our bathrooms all have genuine period fittings, refurbished, of course, to modern standards of efficiency.
For more stories like this please sign up to our newsletter though our contact form.