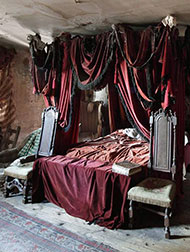 History & Heritage
Spirit of Spitalfields Tour with Look Up London
Full of contrasts and known as the "cradle of migration", Spitalfields is place of constant change with an ancient history. Placed on the fringe of the encroaching City you will discover the past, present and future of this bustling area of London.
You'll see the human story of Spitalfields, exploring what life was like for residents through the ages, why there's a street called Frying Pan Alley and walking the routes of Jack the Ripper's victims.
Starting near Liverpool Street Station, just 5 minutes walk from Batty Langley's, this tour won't just focus on poverty and crime of the area, but will highlight the perseverance and truly uplifting spirit of the East End.
Dennis Severs' House, just next door to Batty Langley's in Folgate Street, is a "still-life drama" created by the previous owner Dennis Severs as a "historical imagination" of what life would have been like inside for a family of Huguenot silk weavers.
A Grade II listed Georgian terraced house, Dennis lived there from 1979 to 1999 and he gradually recreated the rooms as a time capsule in the style of former centuries. The house's ten rooms harbour ten 'spells' that engage the visitor's imagination in moods that dominated the periods between 1724 - 1914.
Your senses are your guide. The motto of the house is Aut Visum Aut Non!: "You either see it or you don't."